Many of our guests comment on the fact that we are lacking in some amenities, but we always get 5 stars for our location.  Why?
Well we figure you book a room to sleep in.  So we keep it clean and comfortable.  We only provide the towels which are mandated by statute: a washcloth and a bath towel per person.  No we don't have hand towels.  Most of our guests can use their bath towel in place of a hand towel.  Our soap and shampoo packets are the cheapest money can buy, so if you need something special, feel free to bring it.
We don't have paper napkins in the kitchen.  We hope you can use paper towels.  We don't have Kleenex in the rooms, we hope you can use TP.
Some things we don't skimp on:  a Belgian chocolate coin for each guest.  Strong 100% Colombian coffee.  We don't have anything against Ethiopian, Jamaican, Venezuelan, Brazilian coffee.  We just get a good deal on Colombian (you can get the same deal at Costco!)
Our staff are mostly temporary unpaid interns from foreign countries.  They want to learn the English language and check out Florida.  We offer them a chance to do both and give them a room right here in the Guesthouse.  They are expected to be courteous and helpful to our guests (most of them have hospitality experience), but they are not your personal servants.  If your room was clean when you arrived or they were able to help you in some way please leave them a tip.  That being said someone is almost always here on site during business hours from 8AM until 10PM.  We might be out on errands but you can always call us.
We don't enter your rooms when you are gone unless there is an emergency (smoke, flood).  So if you have overflowing trash or poopy diapers, let us know before you head out and we will take care of it.  Need new towels?  Let us know.  If you have an issue that we can fix with your room, let us know BEFORE you go running to tell the world how mean we are on social media.  Afterwards, we may be less inclined to help.  Also, in case of Fire, please exit the building before posting on social media.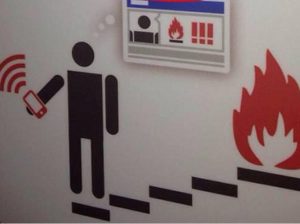 We don't have TV's in the rooms.  With our location if you can't find entertainment within a 100 yard radius, you're in the wrong city.  Besides dueling Westerns at 2AM, is not an appealing thought.  We have old fashioned games like Connect 4, checkers, chess, Operation, Guesstures, Risk and Monopoly.  We do have a TV in the common room with Netflix.  In case you're a spy from the Motion Picture Licensing Company, we have a license.
Some of the tub/shower faucets are outdated, but I don't own the building.  If I spent the $5,000 to upgrade each bathroom, I'd have to raise rates.  I'd rather keep them lower, but if the majority of my guests request it, I'll spend the money.
Our biggest costs are wages, utilities and rent for our location.  The owner's salary has been the same for the last 16 years, but I like what I do, so I'm OK with that.  The rent as well as utilities has gone up over the years.  Yes, I rent the location.  I don't own the building.  This leads to its own set of problems, like how much I should invest to maintain an asset that isn't mine.  If you have suggestions please let me know!