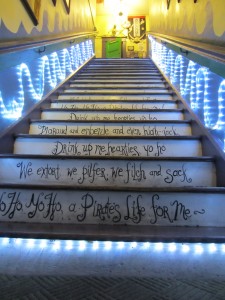 We have our own fitness staircase, 19 steps!
Jogging
St. Augustine has some nice neighborhoods for jogging/strolling while you're in town.  The beach is 4 miles away and there is a sidewalk along A1A.  Please note that Highway 312/A1A beach has a shoulder but not sidewalk.  To use a sidewalk, continue South on A1A until Pope Road.  Turn left on Pope Road and there will be sidewalk all the way to the access lot of the beach.  The neighborhood of Davis Shores, just across the Bridge of Lions is popular with joggers.  After you cross the bridge turn either left or right.
Cycling
A1A North is a popular cycling route over the Usina Bridge to Vilano and then North to Ponte Vedra, however there is only a narrow shoulder if any at all and the speed limit is 55 mph, though many go faster.  It's  not for the faint of heart.  Route 207 West has a cycling lane, and they are working on a separate bike path all the way to Palatka, though only a small portion has been completed.  A ride to St. Augustine beach is nice and the sand near the water is hard packed so you can ride to the inlet on Anastasia State Park.  There is a bike lane and a sidewalk all the way to Fort Matanzas National Monument (12 miles south of St. Augustine).
Swimming
The YMCA on Pope road has a swimming pool which is closed in the winter.  The Refinery just past the lighthouse on A1A on the right has a heated swimming pool which is available for single use visit for $10/day.  The Willie Gallimore center at the South end of Riberia street has a small swimming pool open during the summer months.  The Salomon Community Pool is the newest and is about a half hour walk from The Pirate Haus.  Swimming in the ocean at the beach is available anytime, but in the winter you'll need a wetsuit!  Be sure to familiarize yourself with rip currents and the beach flag system.
Tennis
There are public tennis courts next to the Francis Events Field on Cordova across from the main parking garage entrance.  At Treaty Park on Wildwood drive there are courts with pickup doubles who meet every Saturday, Sunday, and Tuesday between 7:15AM and 10 AM and Wednesdays at 5:30PM.  Show up when you like and they will fit you in.  Friendly bunch and their level is around 3.5-4.5, mostly men but women are welcome.
Lessons are available from Bobby Menendez ([email protected])
Kayaking and Stand Up Paddleboarding
Kayaking in the bay and intracoastal waterway is very popular and a great way to see dolphins and the occasional manatee.  For guided tours contact St. Augustine Eco Tours (they have an office at the Marina).  You can also rent kayaks at Anastasia State Park but I suggest Genung's Fish Camp on A1A just south of Hwy 206.  It's a local secret!  Very friendly owners have all the local knowledge and it's a great place to kick back and enjoy a tasty brew and some boiled peanuts after a long day on the intracoastal.
If you have your own kayak, the front desk can guide you to the best places to put in.
Weights/Racquetball etc.
There are three gyms within a 4 mile radius.  The Refinery just past the lighthouse will sell you day passes.  World Gym has two 24-hour locations and you can get a trial membership, though you may have to come up with a local address!  The YMCA is located on Pope Road at St. Augustine Beach.
Shooting
Cannon School and Musket School each take place twice a year at the Castillo San Marcos and are currently free.  There is a Skeet Club north of the St. Augustine Airport.  And a full shooting range called Saltwaters.
Skate Park
There is a skate park at Treaty Park on Wildwood Drive as well as one near the Lighthouse just off Anastasia Boulevard.